Welcome to the Ward Laboratory
I am an experimental biologist whose research interests are directed toward an understanding of the dynamic interactions between marine animals and their environment. Using an integrative approach, my students and I study processes ranging from the organism to ecosystem level.
We are particularly interested in the behavior and physiology of benthic, particle-feeding invertebrates. Much of our research focuses on commercially important bivalves (e.g., clams, mussels, oysters), which are key components of most coastal ecosystems. These animals provide vital ecosystem services and are an important link between oceans and human health.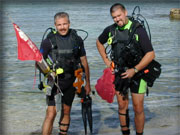 Students interested in graduate studies in my laboratory should thoroughly investigate this site to learn more, and then contact me for information about how to apply.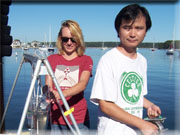 International students interested in pursuing a graduate degree also should investigate foreign scholarship opportunities such as the Fulbright Foreign Student Program.
Check out the view of Long Island Sound from the top of our Marine Sciences building!